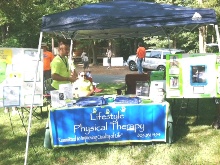 The Splash Dash 10K/5K race was a huge success this year! We are very proud of two of our patients who went above and beyond expectations and participated in the walk! They define our motto of "Never Give Up!"
Check out more pictures of the event on our photo gallery page.
Congratulations to our very own, Dr. Greg Kucharski, who finished first in his age group in the 5K run.
~Thank you to all of you who stopped by our tent. We look forward to next year's event.~